Ibrahim Fakhri is a Syrian artist and curator primarily concerned with the civil activism in Syria and the Middle East, who has been based in the UK since 2004. He has exhibited the graffiti of the Syrian Revolution in venues in Europe and the UK  including the Disobedient Objects Exhibition at the Victoria and Albert Museum and also in the Talking Peace festival. His curated exhibitions include the Parallel Republic exhibition in Fuse Gallery, Bradford and Syria Speaks in RichMix, London.
Ibrahim's latest work is an exhibition with the British Red Cross that uses milk bottles to represent each day of the Syria crisis.
"The world has forgotten": An artist's take on the Syria crisis
from
British Red Cross
on
Vimeo
.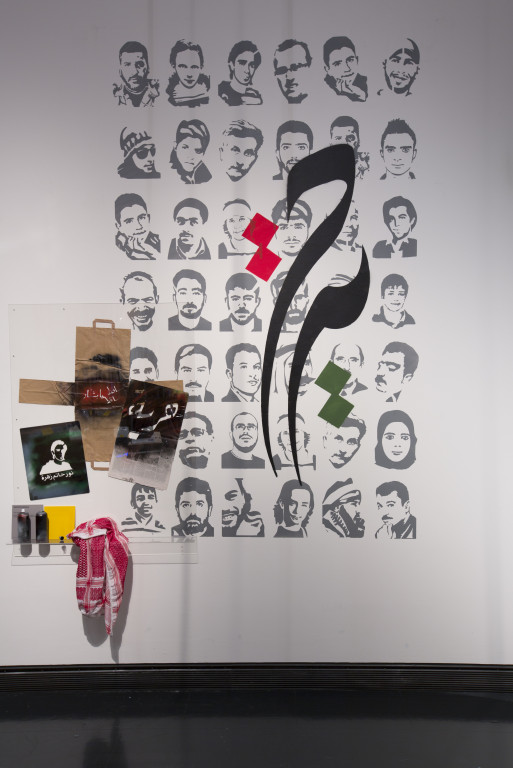 In March 2011 an uprising began against the Syrian government, which led to civil war. According to various human rights organisations and United Nations, human rights violations have been committed by both the government and the rebels, with the "vast majority of the abuses having been committed by the Syrian government", according to the UN.
Since the outbreak of the conflict an estimated 9 million Syrians have fled their homes, taking refuge in neighbouring countries or within Syria itself
In August 2014 a UN study showed that 191,369 people had died due to the Syrian conflict.
Throughout the 2000s restrictive asylum legislation was accompanied with a campaign in the popular press demonising and criminalising those seeking asylum. Tony Kushner wrote in 2003:
In Britain at the start of the twenty-first century, the government, state, media and public have intertwined in a mutually reinforcing and reassuring process to problematize and often stigmatise asylum-seekers.It is through this combination of anti-asylum sentiment finding legitimacy from the top down, alongside the sustenance provided by the daily press campaign and the encouragement of ordinary people from the bottom up, that enabled a poll carried out in February 2003 for The Times to suggest that the number of asylum-seekers was 'the most serious problem in Britain at present'.
A 2004 study by the Information Centre about Asylum and Refugees (ICAR) detailed the negative language repeatedly used to describe asylum seekers and refugees in the popular press: 'scrounger, sponger, fraudster, robbing the system', 'burden/strain on resources', 'illegal working', 'cheap labour', 'cash in hand, black economy', 'criminal' (unspecified or non-violent), 'criminal violent', 'arrested, jailed, guilty', 'mob, horde, riot, rampage, disorder', 'a threat, a worry, to be feared (terror, but not terrorism)'
(Tony Kushner, 'Meaning Nothing but Good: Ethics, History and Asylum-Seeker Phobia in Britain', Patterns in Prejudice, 37/3, 2003, p. 261, Information Centre about Asylum and Refugees, Media Image, Community Impact: Assessing the Impact of the Media and Political Image of Refugees and Asylum Seekers on Community Relations in London, ICAR, London, 2004, p. 35)